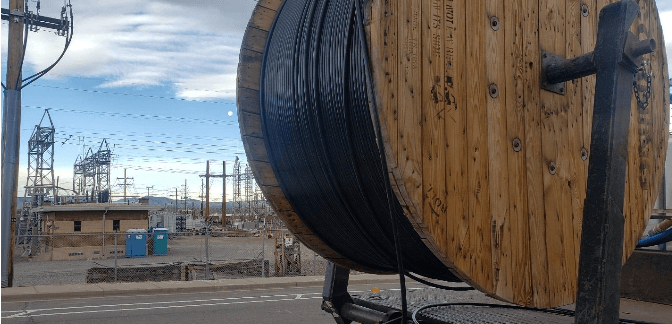 Horizontal Directional Drilling (HDD)
Horizontal Directional Drilling (HDD), also referred to as directional boring, is the preferred method to install underground utilities when seeking to protect infrastructure and landscape features. Directional boring eliminates the need for open trenching or open cutting roadways, reducing interruption to traffic and disturbance to landscape and existing hard surfaces.
Using a walk over locating system, we are able to safely guide the bore to avoid existing underground utilities.
Our directional drill fleet includes drilling and boring equipment suitable for both large and small projects. Our larger drills allow us to bore through tough soil conditions such as sandstone and cobble, bore longer lengths and larger diameters. Our medium and compact directional drills are suitable for residential and various locations where set up space is restricted. When worksite conditions do not allow space for directional boring equipment, we can utilize more compact pneumatic missile boring equipment. We can customize our services to meet your job criteria. We can install one or multiple pipes in a single bore.
Learn more about the directional boring process.
Rock Hammer Drilling
Utilizing a Rock Hammer with a directional drill allows us to drill through solid rock.
Open excavations Trench, Plow, Rocksaw
Open excavations can be more economical in locations that do not have a great deal of underground infrastructure. Hydro excavation may be necessary in certain highly congested locations. We use a variety of methods including trenching, cable plowing, rock saw and hydro excavation so that we can tailor our underground installation to the needs of the project. Trenching services may include grouting and pipe assembly.
Subsurface Investigation – Potholing
Potholing is required to verify the location and depth of utilities in the path of our boring and other excavations. In addition to performing these services on our excavation projects, we also offer hourly potholing services to other contractors in need of locating and verifying utility depths.
Fiber/Telco and Cell Tower Installations
We provide outside plant construction including conduit placement, innerduct, vaults and manhole tie ins. We offer fiber pulling and/or blowing and have partners for testing, splicing and terminations, allowing us to offer turn key fiber installations. We have completed fiber projects as large as 14 miles for various providers over the years. We also help businesses in need of fiber to the building by placing underground conduit from the fiber meet point in the right of way to the building entry point. We can perform building core, pull box and innerduct placement to the phone room. We also serve many cell tower constructors by installing new underground conduits for power and fiber feeds to cell towers.
Electrical and gas services
We install power main lines for Xcel Energy and other providers. We also provide underground power conduits for signs, parking lot lighting, solar systems, EV charging stations and service lines to businesses and residences and ancillary buildings.
Water and Sewer Services
We install new and replacement service lines, or we can simply install a sleeve to allow you to place lines under a driveway, patio or other obstacle that you do not want to trench through. We can also bore for irrigation, drainage, sewer and chilled water systems.
Directional boring is suitable for large installations at golf courses and parks where minimal landscape disturbance is required. Boring will also save on restoration costs when you need to place a line under a road or tie into a line in the road.